While sitting across the white tablecloth from Grandma and singing "Happy Birthday" it occurred to me how truly beautiful she was on her ninety-sixth birthday. I didn't think it was possible to be beautiful at ninety-six but she had proved me wrong. She had dressed up in a hot pink blouse and wore a stunning pair of rhinestone and pink glass earrings that sparkled in the candle light of the fancy restaurant, matching her sparkling, intelligent blue eyes.
Over the years I have often wondered, "What keeps this woman alive?" She had seen a child of her own die and both her mind and marriage survived. She had experienced "widowhood" after sixty-two years of marriage, learning how to write checks, pay bills and live alone at the age of eighty-seven; a feat that amazed many especially those assuming that without her husband she would curl up and die. And with all that ninety-six years of life has brought, the loss of loved ones and friends, the whirl of change in the world around her, her mind has stayed sharp and her smile sweet.
So what is her secret? What anchors her to the here and now, energizing her to take each breath? Her memories of the past are crystal clear, but she doesn't stay in them for long. Her interest in every facet of the lives of the people she meets is insatiable, and because of that she never forgets a face and the details of love and life that go along with it. She has used this talent to lift people's hearts for over thirty years as a volunteer at the local hospital, and was still walking the halls of the sixth floor past her ninety-fourth birthday!
She has a veracious appetite for news and uses every medium available to fill her head with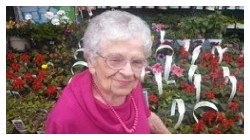 it, from the nightly news programs to the newspaper where the use of a magnifying glass provides the portal for the words to come streaming through.
She is a participant in life. She views it as a party that she must at all costs attend. For the 2012 election she insisted that she vote. Undaunted by the length of the ballot and the absence of straight ticket voting in the state of Illinois, Grandma dragged my husband with her as she walked into the voting booth on Election Day. Solemnly she ordered him to read each entry on the ballot aloud and check each mark she made to ensure that every vote she cast would count.
She is my hero. She validates my belief that every day of life can bring the opportunity to change it, for yourself or another. Me, I want to live to be one hundred and twenty. For those who say "What for?" I point to Grandma.
One spring, standing in her backyard and discussing what flowers she was about to plant, she had told me that she loved geraniums. Looking at the flats of flowers at our feet, I noticed that there weren't any.
"Grandma, do you want me to go up to the store and buy some? I think that you forgot."
"No" she said. "I didn't forget. You always need to leave something to plant for next year." And she smiled.
You bet. She is my Hero!

Tags: 96 year old woman, hero, grandma, Happy Birthday, beautiful, ninety-six, survived, secret, memories, love, life, volunteer, 2012 election, geraniums | Category: Her Paradigm Shift, family, women