The quote "Well Behaved Women Seldom Make History" has always fascinated me. The author of this unique interpretation of what is necessary for a woman's success is Laurel Thatcher Ulrich. Her life's work of recovering the history of women, who had not been properly included
in the history books despite their astounding contributions, was unknown to me until I began to do research for this post.
And until I had come across a book on the same subject at the Chicago Tribune's Printers Row Lit Fest, I hadn't given the issue much thought. Oh, several years ago, the idea flitted through my mind that women had probably gotten a raw deal in recorded history when a Louvre museum exhibit of famous painters of the 1700 & 1800's did not include one woman. But I had no idea of the breadth and depth of misrepresentation in regards to the extraordinary women who have gone before us.
The book, "A Thesaurus of Women – From Cherry Blossoms to Cell Phones" by Barbara Joan Zeitz, is a collection of 52 of Barbara's online women's history columns. Each chapter is a guaranteed eye opening "mini paradigm shift" that shakes up your belief in history as you thought you knew it. Being a woman engineer in my previous life (Aka BW; before writing), I was especially interested in four women whose world changing scientific contributions to society are covered in Ms. Zeitz's book. Three of which, despite my engineering studies in those areas, were previously unknown to me.
The first is Mary Engle Pennington, who against all convention at the time persevered and earned her PHD at the turn of the century from the University of Pennsylvania. She was a bacteriological chemist. The standards in food preservation and storage for transportation that she established lead to her design of the refrigerated railroad car and the refrigerator/freezer for home and commercial use. She diligently worked for the passage of the first Pure Food and Drug Act that eventually brought forth the FDA. So the next time that you walk down the grocery aisle blown away by the bounty of safe food behind the glass doors, remember Mary, because it all belongs to her.
The next is Emily Roebling. A month after John Roebling received approval from the government to build his proposed design of a bridge from Brooklyn to Manhattan, he died. Over most of the eleven years that it took to build the bridge Emily Roebling, John's daughter, was the "man on the job", with the full responsibility of chief civil engineer falling on her shoulders after her brother fell ill, becoming paralyzed and losing his ability to speak. The Brooklyn Bridge was completed in 1883 and though Emily oversaw the actual construction project, very little is mentioned of her great engineering accomplishment, with most of the credit given to her "bed ridden" brother.
Then there is Julia Morgan. In 1894 Julia Morgan became the first woman civil engineer to graduate from the University of California, Berkeley. During her career she designed over seven hundred private homes, and many public buildings such as: churches, hospitals and schools. She was employed part time for 28 years by William Randolph Hearst to design and construct his villa estate which later became known as the Hearst Castle, a state historical monument. In 1972, despite her noteworthy architectural contributions to Hearst Castle, Julia Morgan was still listed by the California state historical records at Hearst Castle as Hearst's private secretary.
And last but not least is Hedy Lamarr. The prominent movie star of the 40s and 50s (who is known for the quote: "Any girl can be glamorous. All she has to do is stand still and look stupid.") was awarded a US Patent in 1942 for a communication system that was used to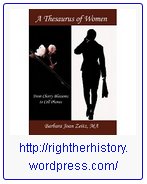 develop a sophisticated anti-jamming device for possible use during World War II. Interestingly enough the military did not use her ideas at that time, however, her "Secret Communication System" is the basis for all wireless devices, including the digital cell phones which are used today.

So tag, you're it! Now that you know the accomplishments of four world changing, misbehaving women, pick up a copy of Barbara Zeitz's book and read about the other 48. Don't let our claim to history and legacy to our daughters be as it used to be, untold or untrue. Women's history which is recounted in the works of Laurel Thatcher Ulrich and Barbara Joan Zeitz should be what we as women pass on to those that we love. Because knowing what has been accomplished by the women who came before us gives us all the freedom to dream, consider, and choose, what we can do and who we can be.
Tags: Well Behaved Women Seldom Make History, Laurel Thatcher Ulrich, Chicago Tribune, Printers Row, Lit Fest, women's history, A Thesaurus of Women – From Cherry Blossoms to Cell Phones, Barbara Zeitz | Category: Her Paragigm Shift, empowerment, self, women